Washington National Primate Research Center
August 27, 2021
Kyes Stresses Importance of Monitoring Wildlife and Human Interactions in Nepal
The Natural Resource Management Program at Nepal College of Engineering (NEC), in association with University of Washington, organized an August 20 webinar entitled, "Bush to Bench to Bedside: The Critical Role of Field Research in Biodiversity Conservation and Translational Science."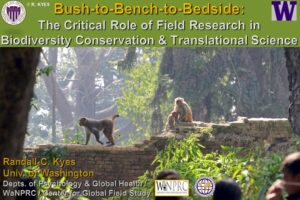 The keynote speaker at the webinar, Professor Randall C. Kyes, said that long-term monitoring is very important to find out the status of biodiversity. He presented his research experience in different countries and emphasized on possible zoonotic diseases passing between humans and wildlife. Speaking about research on methicillin-resistant Staphylococcus aureus (MRSA) in monkeys of Kathmandu Valley. The Master of Sciences in Natural Resources Management program at the Center for Postgraduate Studies (CPS) is a collaborative partner for this research. Kyes said that evidence of human-to-human transmission of MRSA bacteria has been found in monkeys of Kathmandu Valley.
Warning of the potential dangers to wildlife from human and wildlife interactions, he said there is a need for ongoing research on wildlife and biodiversity. The webinar was attended by graduate students from various colleges. NEC CPS regularly organizes a series of webinars on various topics of biodiversity conservation and natural resource management.
The above is a translation of an article from Nagarik News, a Nepali language daily newspaper and news network, Nepal Republic Media Pvt. Ltd.
Dr. Randall C. Kyes is chief of the Division of Global Programs at the Washington National Primate Research Center.